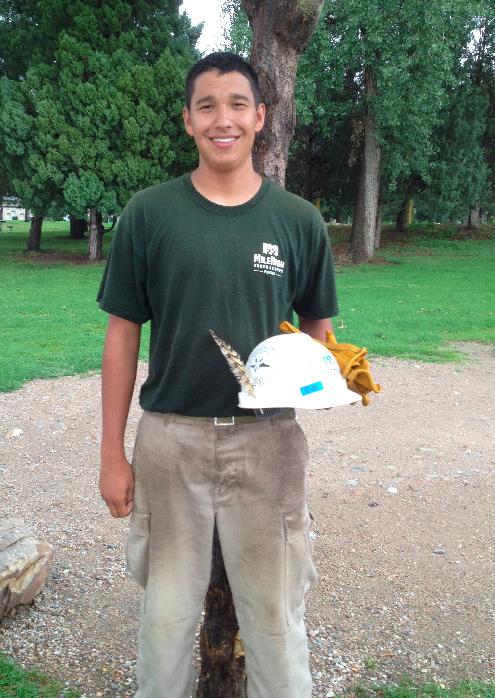 When Justin Quintana-Scott's home in Beulah, Colo. was destroyed in a fire in January 2012, he lost not only his house, but his two dogs as well. The mountain community of Beulah came forward in support by holding a fundraiser and erecting a memorial – gestures Justin will never forget. He is repaying his community's kindness in part through his involvement with Mile High Youth Corps-Pueblo.
"I saw how my community stepped up and pulled together to help us out. It inspired me to help more," says Justin, who joined Mile High Youth Corps in June.
A member of the Apache and Navajo Indian tribes, Justin is a sophomore at Colorado State University in Pueblo. He is studying wildlife biology (he made the Dean's List this year) and has dreams of working for the Division of Parks and Wildlife.
He is getting valuable work experience through youth corps, building on an innate interest in the outdoors. "I've always been around wildlife – including bears, deer and mountain lions. I'd like to work closely with wildlife, and make it so that the next generation will have access to that too," he says.
Justin's crew is braving the scorching Colorado temperatures clearing corridors along the Arkansas River Trail and the Fountain Creek River Trail. By ridding the area of Russian olive trees – an invasive species and daily consumer of more than 30 gallons of river water – Mile High Youth Corps is "making the Pueblo nature scene more friendly to the public and pleasing to the eye."
Justin is working toward an AmeriCorps scholarship to help pay for college. To achieve his goal, he needs to complete 300 hours of work with the youth corps. But to Justin, this is more than just work. "We're always smiling, not because it's a job, but because everyone on my team wants to be there."
Justin and his family are rebuilding their life with a new house in Pueblo, and he is setting an example for youth with a positive outlook. "I like that in youth corps, we're helping out the community and setting a positive role model for the youth of Pueblo. It's altogether fun and enjoyable, and makes me feel good to be a positive influence."