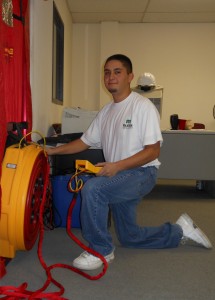 Samuel Vasquez was CYCA's 2011 Corpsmember of the Year. At the awards ceremony, Sam gave the audience insight into the seemingly insurmountable challenges that he has overcome, and how Mile High Youth Corps (MHYC) and his little brother helped him succeed. Through leadership and outstanding worth ethic, Sam, a 21-year-old Colorado native, has served as an exceptional role model to his peers throughout his two terms of services in the Corps.
Sam grew up with a history of crime involvement, drugs and with many male family members sentenced to life in prison. Despite these events, Sam has demonstrated an amazing ability to overcome personal barriers. He has not let those barriers define who he is; rather, he uses them as motivation to seek out new opportunities to make significant changes in his life, and to change the trajectory of his little brother's future.
While working at MHYC, Sam has exhibited an unparalleled work ethic, developing skills in advanced weatherization techniques and in the planning and facilitation of technical trainings. He is currently earning his BPI (Building Performance Institute) certification in weatherization and has taken on numerous internship and job-shadowing opportunities with industry leaders. Sam regularly demonstrates to his peers the benefits of the corps and how to apply these concepts to daily work life. The energy conservation program manager said, "He is always willing to assist other corpsmembers with their daily tasks and regularly works as a teacher and mentor in expanding their knowledge and relating that to their experiences."
Sam completed his second term of service with MHYC in December 2011. He has earned $9,450 in AmeriCorps Education Awards and plans to attend college to study advanced green technologies and weatherization.