To create more pathways to enable ALL youth and young adults to be educated, prepared, and qualified to become natural resource professionals. This Initiative is a massive collaboration between businesses, non-profits, and government agencies including CYCA, the Colorado Alliance for Environmental Education, GetOutdoorsColorado.org, and Goodwill Industries of Denver among others. with funding support from the Walton Family Foundation, Xcel Energy, New Belgium Brewing, Colorado Department of Parks and Wildlife, the United States Forest Service, and Bureau of Land Management.
Committees will be convening! To join others working to build youth engagement and employment in natural resource careers, contact Katie Navin at KatieNavin@CAEE.org or 303-273-9527.
Projects of the Initiative
Natural Resources Career Guide
The Guide was a project started by the Colorado Alliance for Environmental Education last fall to help reduce barriers for young adults in getting an entry-level natural resource job at a government agency in particular. Through research, meetings with human resource staff at multiple levels of government, and committee involvement and support, we hope this first edition of the Guide will be a useful tool in helping young adults on their pathway to a long-term career in natural resources.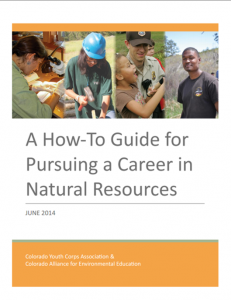 You can also Download the Guide or view it as an Online Flipbook at the CAEE website.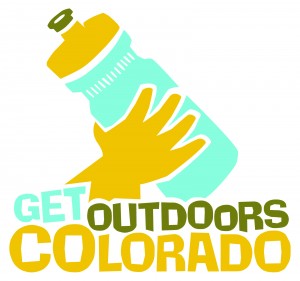 A source of job opportunities for those interested in working outdoors. Find internship opportunities as well as career opportunities.
Work Gone WILD
This is an engaging 5-day program, free to participants, to explore the variety of jobs, work places, training, pay and people who work to maintain our lands, forests, wildlife, water, and park and recreation facilities. It is for high school juniors and seniors to have fun trying new things like archery, planting trees, and visiting a state and national park while networking and building their resume. Transportation, lunch, and snacks are provided. For more information contact Lisa Eadens, Career Development Coordinator at LisaEadens@CAEE.org or 303-273-9527.
This event is hosted by Goodwill Industries of Denver, Colorado Alliance for Environmental Education and the Colorado Youth Corps Association.
Careers in Natural Resources Meeting Notes and Presentation
For more information, visit http://caee.org/NRCareers