Crew Leadership: Balancing Professionalism with Friendship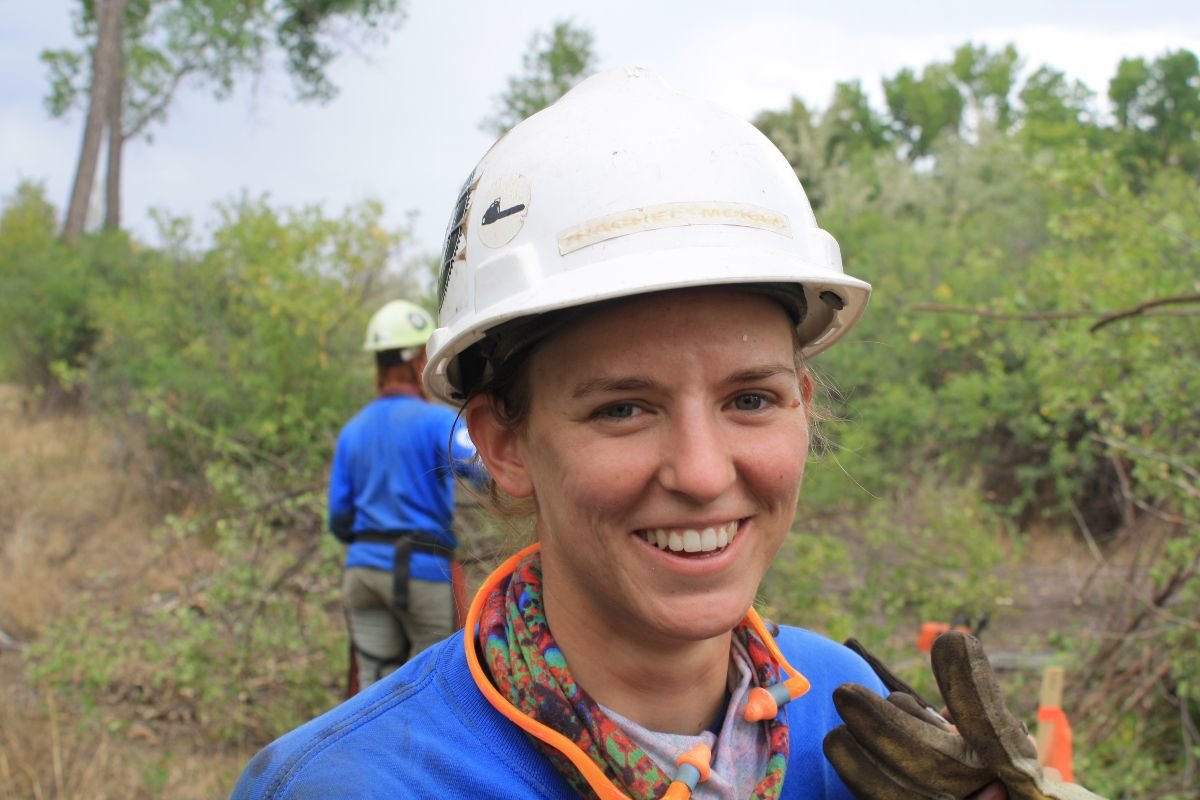 Rachel McKay didn't set out to be a crew leader. Yet, when Western Colorado Conservation Corps (WCCC) offered her the position, she decided to step up for the challenge. "I saw this opportunity as a good growing experience. I wanted to test it out," says Rachel.
That drive to try something new was itself a sign of her personal leadership. And the experience didn't disappoint.
When Rachel joined WCCC in February 2018, she had already served as a corpsmember with Arizona Conservation Corps for six months. She had a 600-hour term left to complete with AmeriCorps. Knowing she wanted to continue with conservation and live in Colorado, she applied to be an assistant crew leader at WCCC. However, the organization needed to fill a last-minute crew leader opening and offered it to her. "I figured I might as well work my way up the ladder a bit," she said.
The experience taught her a few key lessons, particularly, how to navigate the responsibilities of being a leader and the desire to simply be a member of the team.
"As a leader you have to find balance between professionalism and friendship with corpsmembers. In the end, you're all moving toward the same goal and working just as hard."
Rachel also discovered her personal leadership style. "I like to be part of the action. I'm not one to just sit around and tell people what to do."
The makeup of WCCC's leadership teams is fairly unique, featuring two assistant crew leaders and one crew leader. Rachel appreciates the arrangement; it gives everyone a chance to be a leader, as crews are usually split in half for service projects.
It also lends itself to collaboration. Rachel relied on her assistant crew leaders to be her sounding board. "It's nice to have a leadership team where you can have those conversations and not be solely responsible for coming up with solutions," she said.
That approach worked with flying colors for Rachel's team, as demonstrated by a successful chainsaw project at Ruby Horsethief Canyon last spring. The task was to clear tamarisk in a "very large area" in three weeks. Rachel had never operated a chainsaw before – and neither had the majority of her crew. To everyone's surprise, the crew completed the mission.
"The project sponsors weren't expecting us to get as far as we did. We blew everyone out of the water," she said. That project set the standard high for the remainder of the year, as the crew strove to go above and beyond at every chance. "It was quite a good feeling to make WCCC staff and project sponsors proud of us, and the crew did an amazing job at keeping expectations and standards high to meet and excel at project goals," said Rachel.
The project ended up being Rachel's favorite, for the bond that formed among crew members – from cooking and cleaning dishes together to figuring out how to stay warm in 30-degree temperatures. "We had that bond for the rest of the year."
Rachel wrapped up her final season at the end of November, and she's contemplating what's next. Equipped with a college degree in criminal justice and criminology, she also enjoys the conservation world. She's considering applying her AmeriCorps Education Award toward National Outdoor Leadership School classes. For now, she plans to spend the holidays with her family at home in Arizona as she thinks about her next move.
Reflecting on her conservation corps experience, Rachel recommends it for any young adult, especially those who don't know yet what they'd like to do in life. "You're staying active and fit, and putting in hard work. This can take you in many different directions afterward."
Train-the-trainer Model Grows in Enthusiasm and Reach
How many times have you attended a training and went back to the office not knowing how to apply what you learned? That was not the case for attendees of the Careers in Natural Resources Training Workshop on Oct. 30.
One participant said, "This workshop set participants up very well to carry all the information over. Oftentimes at trainings I'm left not knowing how to apply what I just learned. This workshop was not like that, so thank you!"
Twenty attendees from government, nonprofit, youth development, K-12 and higher education organizations gathered at the Fountain Creek Nature Center near Colorado Springs to absorb tips, techniques and tools to learn how to help young adults on a path to natural resources careers. "Our hope is that attendees are offering at least one training per year to their audiences," said Lisa Eadens, program coordinator for the Colorado Alliance for Environmental Education (CAEE), CYCA's partner in offering these events.
Facilitators used interactive activities and small-group discussions to guide participants through "A How-to Guide for Pursuing a Career in Natural Resources," an online training toolkit and a training action plan. Participants also networked with peers – many sharing strategies and discussing potential partnership opportunities.
The "train the trainer" model is generating enthusiasm around this work and multiplying training opportunities each year. Two previous events in Grand Junction and Denver resulted in attendees offering 17 trainings serving 287 youth across the state in 2016 and 2017.
CAEE and CYCA created the how-to guide in 2014 and update it every six months – and this year, the guide is also available in Spanish, thanks to support from the U.S. Forest Service. "When people see the guide, it's intimidating and long. But once they dive in, they realize the value of the information and they can't wait to share it with other people," said Lisa.
"I feel so fortunate that I was able to attend this free training that was of such high quality and gave us all the resources we need to replicate it.
What a valuable, worthwhile use of my time. Thank you!" – Training participant
Many thanks to Fountain Creek Nature Center for sharing its beautiful meeting space for this event!
As for what's next on the horizon, another training will be offered in 2019 as CYCA and CAEE continue to build a statewide network. In addition, plans are in place to develop a high school companion resource to raise awareness about career opportunities among high schoolers. The first step will be to form an advisory council, with a "major push to develop resources" in 2019, and the delivery of trainings thereafter. Learn more at www.caee.org.
**Newsflash**
U.S. Forest Service has committed an additional $10,000 grant to support the Careers in Natural Resources Initiative in 2019. Thank you, USFS!
CYCA and BLM to Start 2019 with a Bang
The Bureau of Land Management's Colorado State Office has made an initial investment in CYCA for 2019, with investments from individual field offices to follow – paving the partnership path for CYCA and BLM next year. In total, the BLM has allocated an initial $170,148.47 to CYCA for a variety of initiatives.
The investment includes $38,646.97 for the organizations' internship program, through which BLM field staff serve as career mentors to interns who are employed by corps. Five interns will be employed – including a wilderness characteristics inventory intern for the Grand Junction field office and a wilderness intern in Gunnison (both employed by Western Colorado Conservation Corps), a hydrologic technician in Kremmling (employed by Rocky Mountain Youth Corps), and either a recreation technician or an OHV park ranger in the Royal Gorge office (employed by Southwest Conservation Corps-Los Valles).
"The internship partnership creates a very efficient setup for the BLM," said Scott Segerstrom, CYCA's executive director. "The BLM builds the next generation of land managers while the corps handles all the recruitment, placement and direct supervising duties.A substantial amount of work gets done for the BLM, and the interns benefit from a life-changing mentorship."
Also included in the initial investment is the allocation of $122,335.20 toward six youth corps projects over 14 weeks. This includes:
A Rocky Mountain Youth Corps resource protection and dune access project in the North Sand Hills Special Recreation Management Area (SRMA) Trail and a trail enhancement project at the Cedar Mountain SRMA;
A Southwest Conservation Corps-Los Valles fence maintenance and river access project in the San Luis Valley's Rio Grande Natural Area;
A Western Colorado Conservation Corps project to reconstruct the Grizzly Gulch Trail near Gunnison, and projects to restore Grand Junction's historic Devils Canyon Cabin and to sign travel management opportunities to benefit all resources.
Finally, the allocation includes $9,166.30 to fund a Veteran Fire Corps project in the San Luis Valley, to be completed by Southwest Conservation Corps-Los Valles. The project will enable significant progress in the development of a variety of community-based trail systems in a continuation of a long-time working relationship between SCC-LV and the BLM's San Luis Valley Field Office which, in reference to the corps, "considers the youth component of their programming exemplary and the work they perform superlative."
Hats Off to Boulder County Youth Corps for Award
Congratulations and a shout-out to Boulder County Youth Corps for being recognized by the Colorado Department of Labor and Employment and its Governor's Summer Job Hunt program. In partnership with workforce centers, the program introduces high school and college students to the workforce. At a ceremony held at the Governor's Executive Residence in Denver, several organizations received awards for helping teens expand their basic workplace skills – and Boulder County Youth Corps was one of them.
For more than 20 years, BCYC has enabled thousands of teens to complete conservation projects throughout Boulder County, while also learning strong work habits, new skills, and the value of environmental and civic stewardship. In 2018, BCYC hired 160 corpsmembers and 13 assistant team leaders. Again, congratulations to Judy Wolfe for this worthy accomplishment!Read the complete news release here.
In the photo are: Jennifer Underwood and Danny Sisneros from Workforce Boulder County, and Judy Wolfe, program manager at BCYC (middle).
Supporting CYCA is a mouse-click away today, Colorado Gives Day!
Let's seizethis opportunity to take stock of all that youth corps have achieved — and all that we have collectively done for our beautiful state. Here are highlights of youth corps impacts last year!
Youth corps served 1,597 youth, young adults, and veterans statewide
35% of corpsmembers belonged to an ethnic minority
40% of corpsmembers were low-income
28% of corpsmembers had no experience work experience
671 corpsmembers earned AmeriCorps college scholarships totaling over $1 million
Video Junction
Each issue of the Corps Report features a video illustrating the people, projects and places that make conservation corps so special!
This issue's featured video, "We Believe,"
is brought to you by Rocky Mountain Youth Corps.
What a great way to end the year! Congrats, RMYC, for celebrating 25 years.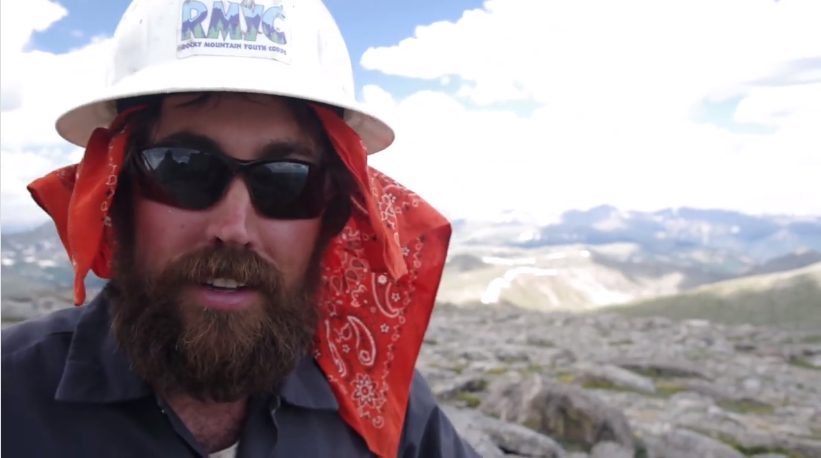 What a great way to end the year! Congrats, RMYC, for celebrating 25 years.