On a Mission for Change
Not so long ago, Lauyona Booker walked by the Community College of Denver (CCD) campus, thinking to herself, "I wish I could go to that school." But she didn't believe college was in the cards for her, having grown up with learning disabilities and in poverty. Now, thanks to encouragement and resources from the YouthBuild program at Mile High Youth Corps (MHYC), Lauyona is a CCD student. What's more, she has a vision and a plan.
"I decided this year that I was going to make a 180-degree change in my life," said Lauyona, a self-described goal-oriented person. "I'm on a 10-year mission."
"I decided this year that I was going to make a 180-degree change in my life."
Lauyona discovered YouthBuild in late January 2018 while in a High School Equivalency Diploma (HSED) class at CCD. She and a fellow classmate, a YouthBuild member, struck up a conversation. By the end of class, the whirlwind had begun: that evening, Lauyona connected with a YouthBuild leader and filled out an application, then was invited for an interview. She knew little to nothing about YouthBuild. "I didn't know what I was getting into. It all happened in the blink of an eye," she said.
She soon became aware of YouthBuild's many benefits – including paying for school and giving AmeriCorps education awards in return for service projects – and was determined to get accepted. She scored all fives on her evaluation. "It still feels like a dream," she said.
In YouthBuild for only two months so far, Lauyona has participated in service projects at food banks, in a green house and with school children – exposing her to new and unique experiences. Reflecting on it, she said, "I didn't know any of this stuff existed."
She also presented a speech for inclusion in MHYC's Leadership Council, sharing her thoughts about leadership, qualities needed in a leader, and how she would like to lead – a topic about which her YouthBuild mentors often ask.
"They question my ideas about what would help the program, and they use them. I have never been asked that. It makes me feel good," she said.
In her speech, Lauyona also shared her own history.
Lauyona grew up in a family with low income; her parents struggled with substance abuse. "I knew my life was going to be bad, so I never tried. But when I was 22, I decided, 'I don't want to be asking anymore. I want to have a job.'" She started working at a nursing facility as a personal care provider, but found the tasks unrewarding.
Realizing she would have a tough time getting a better job without an education, she spent a year acquiring the skills needed to start HSED classes. But once enrolled, she felt stagnated again, and her confidence, once again, spiraled downward. "I felt like I wasn't going anywhere. But then the YouthBuild opportunity fell in my lap."
"I felt like I wasn't going anywhere. But then the YouthBuild opportunity fell in my lap."
Lauyona will soon be ready to take the HSED exam, and she is officially enrolled as a college student at CCD, working toward a nurse's aide certificate. She will complete YouthBuild in eight months and plans to use her education award to continue on in CCD's nursing program.
In the meantime, Lauyona is honing her leadership skills as an MHYC Health and Wellness program leader – a role that fits her vision to help lift up other young people who have had to cope with poverty and parents with substance abuse issues. She credits YouthBuild with boosting her confidence.
"When I was younger I thought I was all alone, and that nobody else had these problems. Just having somebody tell you, 'You can do this,' really helps."
We are confident that Lauyona will be able to pass that encouragement on to others, and are excited to see what her future holds!
A Plethora of Projects Slated for 2018
A plethora of youth corps and veteran crew projects will proliferate across the state in 2018, thanks to a new award from the Bureau of Land Management. The BLM has allotted $284,000 for projects that will be vital to the conservation and protection of many precious places across Colorado – enabling the continued use and enjoyment of recreational areas, protecting landscapes and communities from wildfire, ensuring sustainable habitat for the state's wildlife, and creating economic and health benefits for residents and visitors alike.
Scheduled to take place over the course of 33 weeks, the projects will benefit Colorado's northwest, southwest and Rocky Mountain regions:
Rocky Mountain Youth Corps will take camping crews on a variety of projects focused on trail maintenance and construction; sign maintenance; and fence removal, maintenance and repair in areas managed by the BLM's Colorado River Valley, White River and Little Snake field offices.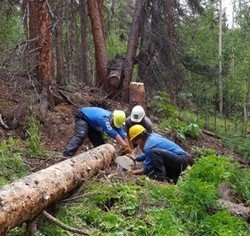 In the Gunnison, San Luis Valley and Royal Gorge field office areas, camping and veteran trail crews will complete a campground redesign, develop community-based trail systems, complete much-needed construction and maintenance on several community-based trails, and restore parks and meadows. Western Colorado Conservation Corps, Southwest Conservation Corps-Los Valles and Mile High Youth Corps-Southern Front Range will pursue these projects.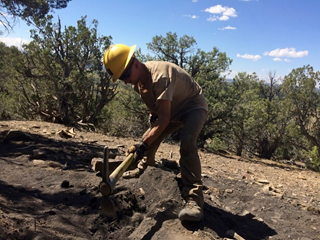 Western Colorado Conservation Corps and Southwest Conservation Corps-Four Corners will remove invasive tamarisk, reduce hazardous fuels, build and maintain trails, build trailheads, stabilize archeological sites, support research studies toward the restoration of salt desert areas, remove or replace wildlife-unfriendly fence, rehabilitate and repair closed or damaged routes, and maintain non-motorized trails. These projects will take place in support of the BLM's Tres Rios, Canyon of the Ancients, McInnis Canyons and Grand Junction field offices.
Thank you, BLM, for your continued support of youth corps and veteran crew projects!
BLM Interns: Exploring Their Boundless Options

Archaeological technician. Recreation assistant. Wetlands monitoring intern. These are just a few of the exciting positions available to corpsmembers who participate in the CYCA-BLM internship program. Hired by partnering youth corps, interns serve in a BLM field office (and are mentored by a BLM staff member) for a period of one year – advancing their technical and leadership skills in a real-world work environment as they begin to seriously consider a career in natural resources.
This year, CYCA has received an award of $175,824 from the BLM Colorado State Office to engage 19 interns in service projects. The interns will each play a unique role in supporting the BLM field offices across the state – from Uncompahgre, Gunnison, Grand Junction, Colorado River Valley and Kremmling, to Little Snake, White River, Rio Grande and San Luis Valley. That's a lot of ground to cover!
"I have been able to diversify my skill set in a way that was not possible before."
– Xavier Belardi, recreation planner intern in 2017

Here is what one BLM intern last year had to say about his experience: "I have been able to diversify my skill set in a way that was not possible before. I have learned important lessons in resource management, the public's relationship with recreational sites, maintenance operations, and even GIS applications," said Xavier Belardi, a recreation planner intern with the Royal Gorge field office. "I now know I want to pursue a career in natural resources management. I am very enamored with the idea of being a steward of the land for our country at the federal level."
Here is a list of the internships BLM field offices have in store for this year:
Archaeological Technician
Field Technician
Hydrologic Technician
OHV Park Ranger Intern
OHV Ranger/Recreation Assistant
Park Ranger (River) Intern
Recreation Monitoring & Outreach Intern
Recreation Facilities Intern
Recreation Technician
Visitor Study Data Collection Assistant
Wetlands Monitoring Intern
Wilderness Characteristics Technician
Wilderness & River Monitoring & Outreach Intern
We wish all of the interns good luck as they embark on these unique and transformative opportunities with the BLM.
Board Spotlight: Ed Roberson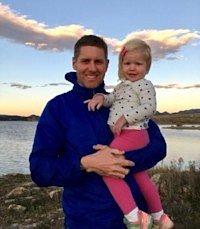 Have you ever wondered who is behind the curtain at CYCA – and behind the board of directors curtain? Today, get to know our board treasurer, Ed Roberson, who has been "on board" since August 2016.
Pictured: Ed and his daughter in Colorado's Wet Mountain Valley near Westcliffe
CYCA: What inspired you to join the CYCA board and support youth corps?
ER: I have been the beneficiary of youth corps' hard work since moving west in 2005. As an avid outdoorsman and public lands user, I have enjoyed well-built trails and responsibly stewarded open space for years. In my career as a ranch broker, I have seen first-hand the impact youth corps' projects can have on improving habitat on private land, creating positive ripple effects throughout a landscape. It has been an honor to play a small role in the continuation and evolution of these important conservation projects.​
CYCA: How does youth corps benefit Colorado?
ER: There are far too many benefits to list here, but one of the most important is that the youth corps' work enables the general public to experience the outdoors. For anyone to be a committed conservationist, they need to first love the outdoors, and simply getting outside is the first step in stoking that passion for wild places. Whether it's a heavily trafficked bike path in the Denver metro area or remote, rugged single-track in southwest Colorado, the youth corps' work allows adventurers of all levels to get outside, enjoy open space and hopefully dedicate their energy to protecting these special areas.
CYCA: Have you seen a young person's life change because of his or her involvement in a corps?
ER: I believe that CYCA's executive director, Scott Segerstrom, is a perfect example of an individual who leveraged his experience as a young crewmember into an amazingly impactful career in land conservation. Given his drive and intelligence, Scott could've taken any career path he wanted. But because a love of wild places was developed so early in his career, he has been able to make an even wider impact on stewarding land and changing youths' lives on a large scale through his high-level role leading CYCA.
CYCA: What are your hopes for the future of conservation in Colorado?
ER: I hope that outdoors people of all stripes can continue to band together to protect our public and private lands. Ranchers, mountain bikers, hikers, runners, climbers, anglers, hunters and many more share a common love of Colorado's wide-open spaces. Despite a few historical differences, most of these groups share many more commonalities regarding the importance of our state's open space. By working together to ensure that these vast natural resources are stewarded appropriately, it will be possible to stave off many attempts to exploit the land solely for economic gain.
Thank you, Ed, for taking the opportunity to share a few of your perspectives with us! We are glad to have you on our board.
Creating a Vibrant River Ecosystem
Russian olives and other phreatophytes (water-sucking plant species) pose a constant threat to Colorado's river ecosystem – putting in peril the water supply needed not only by the state's native flora and fauna, but by water recreation users as well.
The Colorado Water Conservation Board (CWCB) has awarded a grant of $30,510 for Western Colorado Conservation Corps to remove these invasive plants and make habitat improvements on the Lower Colorado River. Complemented by a funding match of $12,580 from other sources, the award from CWCB will have important outcomes for the McInnis Canyons National Conservation Area.
With overall goals to create a healthy and vibrant river ecosystem, the project is expected to lead to greater opportunities for the public to recreate on and enjoy the McInnis Canyons National Conservation Area, as well as enjoy educational benefits the area has to offer. In addition to eradicating invasive plants, Western Colorado Conservation Corps will deliver educational sessions to youth corpsmembers with an aim of building awareness about the identification, management and environmental impacts of phreatophytes.
This stretch of the Colorado River also generates economic advantages for the small communities that comprise the Grand Valley. Drawing visitors from around the world every year, the river sees over 13,000 floaters annually – and by combating the spread of invasive plants, improving the watershed and maintaining public campsites along the river's corridor, the area will keep its world-class status as a place-to-experience in Colorado for years to come.

U.S. Forest Service Pledges Another $10K


The U.S. Forest Service has pledged a generous $10,000 to support the Careers in Natural Resources Initiative in 2018 – boosting an award it gave in the same amount in November 2017.
Combined, the $20,000 will support a variety of efforts to develop pathways for young people interested in exploring natural resources as a career option. These efforts include:
Support Spanish translation of "A How-to Guide for Pursuing a Career in Natural Resources" (free and downloadable here) before fall 2018
Support a train-the-trainer session in Colorado Springs in summer 2018
Print guides and build training toolkits for trainers
Enhance marketing efforts and reach
Continue support for the training networks in Denver and Grand Junction
Support travel costs enabling CYCA and Colorado Alliance for Environmental Education to deliver direct trainings to young adults and veterans across the state
The funding from the U.S. Forest Service is vital to CYCA's ability to pursue the objectives of its new strategic plan – including a commitment to deliver the Careers in Natural Resources Initiative as a core service. Thank you, U.S. Forest Service!
Useful Links