Trails Don't Just Appear – They Take Hard Work
Trails Don't Just Appear – They Take Hard Work
Brock Tausan spent his growing-up years fly-fishing and experiencing the Colorado wilderness. When he set out to apply for summer opportunities, he knew he wanted to be outdoors, and happily stumbled across a corpsmember opening at Larimer County Conservation Corps (LCCC).
"I thought, 'I would love to camp Monday through Thursday and contribute to conservation,'" said the 20-year-old Broomfield native. He was granted his wish. "It's pretty unbelievable going to the places we go, going hiking and doing the things I would already do."
Now, Brock is living the dream. A member of LCCC since May of this year, he makes weekly trips to Rocky Mountain National Park (RMNP) to construct, clear and maintain trails. Removing vegetation, digging out hazardous roots, clearing rocks and building retaining walls have formed the bulk of his experience, taking him to such settings as Aspen Brook Trail, one of the original entrances to RMNP that was severely damaged by the 2013 floods. His favorite location so far is the Loch Vale Trail near Estes Park. "It's one of most beautiful places I've been to, so majestic and scenic. One day saw elk on the trail," he said.
As an incoming junior at Colorado State University, Brock is majoring in watershed science with a minor in ecosystem science and sustainability. He has a passion for fishing, so protecting Colorado's rivers is personally important to him. And he feels that river health and sustainability are even more critical now due to global warming. "Colorado is a headwaters state that the rest of the nation depends on," he said.
Brock is building his skillset and making valuable networking connections – all while earning AmeriCorps Education Awards, which he will put toward college tuition. The financial assistance is just part of the picture: He also benefits from AmeriCorps' educational programming. "LCCC is a place that wants to prepare members for life moving forward in their respective careers," he said.
Recently Brock and his fellow corpsmembers participated in a workshop where they discovered their individual leadership styles. Brock was told he has a natural talent for getting people to follow him and encouraging others, while being strong at making judgment calls, being confident in himself and promoting positive change. Making his own observation about his leadership style, he said, "I like to take the initiative, and am willing to take credit for success or failure."
Brock believes these qualities will help him move ahead professionally, including enabling him to develop a vision about where he wants to be.
For now, Brock is happy making Colorado's important recreational areas nice and sustainable. He views his service at RMNP – "the place people go when they visit Colorado" – as vital. Making it his mission to explain that conservation is about protecting the mountains from human destruction, and to educate people about what it takes to build trails, he said, "I try to make people understand that the trails don't just appear; it's because people actually hike up and do really hard work all day."
Brock's dedication to Colorado is evident, and he has found a way to apply it at LCCC: "The work we are doing helps keep Colorado the way it was when my parents were growing up."
"Trails don't just appear;
it's because people actually hike up and do really hard work all day."
Evaluating Our Impact on Colorado's Ecosystems
Do conservation corps trail construction and improvement projects also improve trail visual quality and usage? Do they increase visitor safety? What about trail-related impacts on natural resources – do these projects help reduce them? CYCA is determined to get answers to these questions and more! We have contracted with North Carolina State University to evaluate the impact of our AmeriCorps grant on ecosystems in Colorado.
We initiated the study under the requirements of our AmeriCorps grant, which indicates that in the fourth year of the grant, we must conduct a third-party scientific evaluation of our program to ensure that we are making the impacts in the community that we set out to make.
Brandon Watkins, CYCA's associate director, sheds some light on this study:
Q: What criteria are being evaluated?
A: The study is focused on trail maintenance projects. NCSU wants to see what the trail looked like before our corps worked on it and then measure the impact after a project is completed. The corps complete a trail assessment form using various indicators to measure the before-and-after trail work. Some indicators being measured are natural hazards and debris, drainage feature damage, structural damage, erosion features and bedrock exposure. The hope is to see improvement in these indicators after the corps are done.
Q: What regions of Colorado does the study focus on?
A: This study applies to CYCA's AmeriCorps grant, so it only encompasses five of the eight corps: Mile High Youth Corps, Rocky Mountain Youth Corps, Weld County Youth Conservation Corps, Western Colorado Conservation Corps and Larimer County Conservation Corps. Therefore, almost the entire state of Colorado is covered except Southwest Colorado and Boulder County.
Q: What is the corps' involvement in the study?
A: The corps have all been trained by CYCA on evaluation protocols. They are now able to collect their own data, submit it through the NCSU online portal and keep physical records of their assessment forms. The corps have also trained their crew leaders to administer the evaluation out in the field. Most of the lift is now on the corps to ensure they are collecting the necessary data on all trail maintenance projects and uploading it correctly.
Q: What is CYCA's involvement?
A: Our involvement includes technical assistance, training and oversight. At the beginning of the season I (Brandon) traveled to each corps and trained office staff on the protocols and requirements of the evaluation. I also request physical forms to ensure that documents are being submitted, and provide any assistance as questions or issues arise. Lastly, CYCA is the main contact entity with NCSU, so I correspond directly with the researchers and provide updates.
Q: When will the study be complete and published?
A: The study will finish on August 31, when most corps will be wrapping up their trail seasons. Then the researchers will compile their data, and NCSU will publish the results by December 31.
CYCA looks forward to sharing the results of the study once they are published.
In the meantime, check out some before-and-after evaluation photos!
Workin' It with Denver Water
CYCA is proud to see our partnership with Denver Water growing and flourishing! Together, we're working to create jobs, educate young people and invest in local communities.
This year, Denver Water has generously invested $27,346 in conservation work by our youth corps over a period of three weeks – matching its investment in 2017. Over those three weeks, 30 corpsmembers are not only pursuing important water conservation projects, they are also learning about the mission and impact of Denver Water – exposing them to new ways in which they can become stewards for Colorado for many years to come.
Here is a glimpse of the projects we've been pursuing this summer:
Mile High Youth Corps/Cheesman Canyon: Remove overgrowth from trees on the trail along Cheesman Reservoir and in Cheesman Canyon, and conduct trail stabilization and delineation.
Rocky Mountain Youth Corps/Dillon Reservoir: Remove, repair, and install fences and signage to delineate Denver Water property around Dillon Reservoir.
Rocky Mountain Youth Corps/Winter Park and Fraser: Remove brush and trees on the right-of-way of Denver Water canals.
Want to get a closer inside-look at one of these projects? Check out the video "Barbed wire fencing be gone."
How much do YOU know about Denver Water? Here are few key facts:
Denver Water…
Ensures a continuous supply of water to the City and County of Denver and nearly 50 percent of Denver Water customers who live in the surrounding suburbs.
Is responsible for the collection, storage, quality control and distribution of drinking water to nearly one-fourth of all Coloradans.
Uses as its primary water sources the South Platte River, Blue River, Williams Fork River and Fraser River watersheds.
Also has water sources from the South Boulder Creek, Ralston Creek and Bear Creek watersheds.
Was established in 1918 after Denver residents voted to buy the water system from a private company.
Is Colorado's oldest and largest water utility.
Is a separate entity from the City of Denver.
Learn more on Denver Water's website.
Mile High Youth Corps Hosts Barbara Stewart of CNCS
Recently, Mile High Youth Corps was asked to host Barbara Stewart, CEO of the Corporation for National and Community Service (CNCS), the federal agency that oversees more than 5 million Americans in service through AmeriCorps and other service programs. Other guests in attendance for the visit were Antonio Mendez, cxecutive director for Serve Colorado; Gina Cross, acting director for the National Civilian Community Corps; Tess Mason Elder, deputy of government relations for CNCS; and Dan Dunlap, from the Colorado state office of CNCS.
The one-hour visit was packed with engagement opportunities to showcase the impact of youth corps, including a chance to participate in a career fair with 33 employers representing diverse industries. Six corpsmembers representing MHYC's Land Conservation, Energy & Water Conservation and YouthBuild programs shared their compelling stories of growth and impact. Moved by the authenticity of the corpsmembers' personal stories, Ms. Stewart remarked on their communication skills, professionalism and confidence.
Ms. Stewart will take these experiences with her back to Washington D.C. to help advocate for the importance of service programs nationwide!

A Slate of Parks & Wildlife Projects Planned

An array of state parks and wildlife projects are slated for 2018 and 2019, starting this summer, thanks to new funding from Colorado Parks & Wildlife. A grant totaling $471,436 will support 40 projects across Colorado, including the following:
Eldorado Canyon State Park: Youth corps will work to rebuild heavily damaged switchbacks in a section of trail that has fallen into disrepair and was severely eroded by heavy precipitation in 2013 and 2015. The corps will build wooden stairs with armored drainage, as well as rubble walls and a split-rail fence. The project will eradicate the public safety hazard of this trail, which is enjoyed by hikers, climbers and equestrians. Check out a couple of before-and-after pictures below: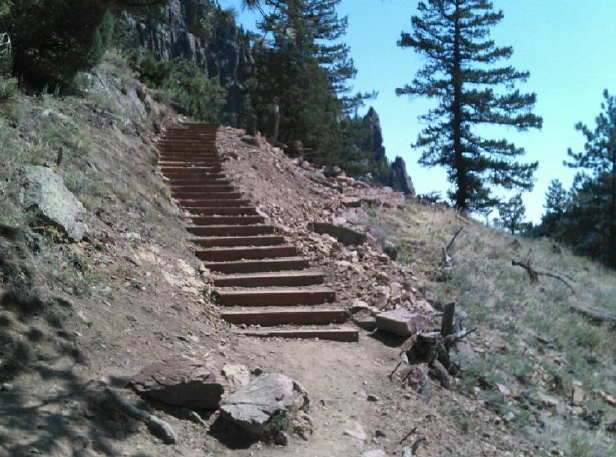 John Martin Reservoir State Park: Youth corps will maintain and make improvements to Red Shin Trail, including removing tamarisk. Removal of this invasive species in areas of heavy foot traffic will open up viewing opportunities for the public as well as improve the habitat for wildlife.

Basalt State Wildlife Area: Youth corps will construct three miles of barbed-wire fence and remove some sections of existing dilapidated fence as well as brush. The project will provide needed maintenance of an area where cattle graze, keeping them on private property and out of the wildlife areas.
Mt. Ouray State Wildlife Area: Youth corps will remove noxious weeds, plant seed and stock, help create irrigation strategies and infrastructure, and install interpretive signage that details the restoration efforts. The project will help restore an area impacted by irrigation loss and soil erosion caused by the loss of vegetation and a dramatic increase in prairie dog populations.
La Jara Reservoir State Wildlife Area: Youth corps will restore campsites by removing old litter from the fire pits and repairing the pits to a functional state; placing structures to prevent unnecessary expansion of the sites; reseeding to prevent soil erosion; and repairing sections of dirt roads. The project will result in much-needed maintenance that has not occurred in several years, and enable hunters and recreationists to continue to enjoy the landscape.
Thank you, Colorado Parks & Wildlife, for supporting these projects. We look forward to seeing the outcomes!
Useful Links