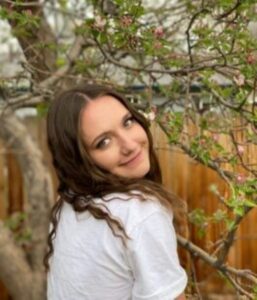 Caley started with CYCA as the AmeriCorps and Contracts Manager in March of 2022. Her main roles surround managing CYCA's two grants and the six corps within it, as well as serving as the contact for the several project partners in her portfolio. For AmeriCorps management, she ensures that the corps have all the tools and support they need to successfully run their programs. On the contract side, Caley focuses on collaboration and behind-the-scenes reporting to make sure projects run smoothly, reach their goals, and solidify future funding, which ensures corpsmembers can continue to improve and maintain Colorado's public lands.
Caley graduated from Colorado State University in 2020, obtaining a BS in Ecosystem Science and Sustainability with a concentration in climate change. After finishing her undergrad, she served as a Water and Energy Corpsmember for Larimer County Conservation Corps. There, she found a passion for AmeriCorps service, specifically in increasing youth involvement in the conservation field. Although she initially believed her service was simply an opportunity to gain experience after graduating, she fell in love with the community and purpose AmeriCorps provided and knew she wanted to continue pursuing a career in the corps world. This led her to CYCA where she continues to grow and learn every day.
Caley was born and raised in Colorado and believes growing up enjoying the outdoors is what led her to find a passion for conservation and natural resource management. She loves implementing these practices into her personal life, trying to live as sustainably as she can. Outside of the office, she enjoys rock climbing, hiking, and camping. She also has a strong desire to create, enjoying painting, drawing, and constantly working on a myriad of half-finished DIY projects.